Looking back on InterWEIGHING2015
During April 20~22, 2015, InterWEIGHING2015 was held successfully in Shanghai Everbright Convention & Exhibition Center. A total of 345 exhibitors, who were from 20 provinces in Mainland China and from the United States, Netherlands, Italy, Spain, Portugal, UK, Finland, Poland, Turkey, Japan, South Korea and Chinese Taiwan & Hong Kong, enthusiastically participated in the exhibition.
At 9:30 on April 20, InterWEIGHING2015 is observed the grand opening ceremony in front of West Hall at Shanghai Everbright Convention & Exhibition Center in spite of the rain. Distinguished guests on the platform were from SASAC, AQSIQ, CNLIC, Vice-presidents of CWIA and representatives from Weighing Industry Association of Australia, Taipei Measuring Instrument Association, NMi, NMRO, CAS Corporation of Korea and UTICELL Group of Spain.
In opening ceremony, Mr. Liu Xiaohua, President of CWIA, Mr. Paul Dixon, Certification Services Director of NMRO, Mr. Zhang Honglu, President of Taipei Measuring Instruments Association and Mr. King Dongzhen, Director from CAS Corporation of Korea delivered the opening speech separately, and in speech words, they all wished InterWEIGHING2015 achieved a complete success.

Because of the rain, organizer took emergency measure to let visitors enter halls, but there were still thousands of visitors watching Opening Ceremony in the rain.
Organizer invited Mr. Liu Zhaobin, Chief Engineer of AQSIQ, Mr. Zhang Tao, Director from Industry Association Office of SASAC, Mr. Du Tonghe, Vice Chairman of CNLIC, Mr. Zhang Yiqun, Deputy Director from Department of Metrology of AQSIQ, Mr. Rodney Meis, Vice- president from Weighing Industry Association of Australia, Mr. Paul Dixon, Certification Services Director of NMRO, Mr. Paul Van Enckevort, Director of NMi, Mr. King Dongzhen, Director from CAS Corporation of Korea. Mr. Zhang Honglu, President from Taipei Measuring Instruments Association, altogether 10 distinguished guests, cut the ribbon for the Opening Ceremony.
According the statistics, there were 345 exhibitors in InterWEIGHING2015. The number increased 23 than it in 2014, and decreased 5 exhibitors than it in 2013. Compare with 322 exhibitors in 2014, there were 78 exhibitors who didn't joined in 2015, but 101 new companies as exhibitors joined in 2015. Moreover, among these 101 new exhibitors, 49 new companies were the first time to participate InterWEIGHING.
The exhibition area of InterWEIGHING2015 reached nearly 24,600 sqm, which increased 13% than the number in 2014, but decreased 5% than the number in 2013. InterWEIGHING has kept continuously above 20,000 sqm in area for five years since the breakthrough 20,000 sqm in Shanghai, 2011.
Among the exhibitors, there were half exhibitors who made custom-built booths and their area took up four fifths in total area (three quarters for past events). The others chose standard booth which area took up only one quarter in total area. It shows exhibitors paying more attention to the exhibition of 2015.
The booth area from Zhejiang's exhibitors was still the largest. Exhibitors' number took up 26% in whole exhibitors' number and took up 29% in area in whole exhibition area. Jiangsu, Shanghai, Guangdong and Fujian provinces were the 2nd, 3rd, 4th, and 5th. For above five provinces altogether more than 260 Exhibitors which approximately took up three quarters in total exhibitors' number, and the area took up 83% in total exhibition area.
In all exhibitors, members of CWIA took up 61% in exhibitor numbers and took up 83% in exhibition area. Non-members took up 39% in exhibitors' number and the area only took up 17%. There were 49 exhibitors who were the first time to attend the exhibition took up 14% in exhibitors' number and took up 7% in exhibition area.
According to the statistics, more than 9700 visitors joined the exhibition who came from 29 provinces & cities of China Mainland and 77 countries & regions. 21% visitors were from Shanghai; 69% visitors were from other provinces & cities of China Mainland; 10% visitors came from out of China Mainland. Among the visitors, There were 74% visitors of China Mainland who were from the East China region. The provinces & cities of China Mainland of visitors number over 500 were Shanghai, Jiangsu, Zhejiang and Shandong; Among the oversea's visitors, the countries & regions of visitors number over 20 were India, South Korea, Japan, Hongkong, Turkey, Thailand, Malaysia and USA.
In exhibition period, organizer held one and half days <The 14th Weighing Technology Seminar & New Tech, New Products Press Conference> in the meeting booth which was built for the seminar in the east hall. The Seminar included three topics: pattern evaluation; new products press; new technical exchange. Main topics as below:
On Pattern Evaluation
New EU detective MID(2014/32/EU),NAWI(2014/31/EU)
The impact of changes to standards and legislation affecting CE and OIML certification
OIML R134 and JJG907-2006 National Metrology Verification Regulation difference discuss, and verification & pattern evaluation methods
Electronic crane scale measurement test device research and practice
Array type belt weigher -global first level 0.2 OIML certification
New Products Press
High stability belt weigher
High-end cantilever beam and S Type load cell
Wireless digital meter
High precision amplifier and meter apply in load cell multi-station synchronous creep test system
New technical exchange
Big data times cloud weighing tech and clients & products management
How to let weighing apparatus integrate to internet with low cost
Internet of things cloud platform basing on weighing instrument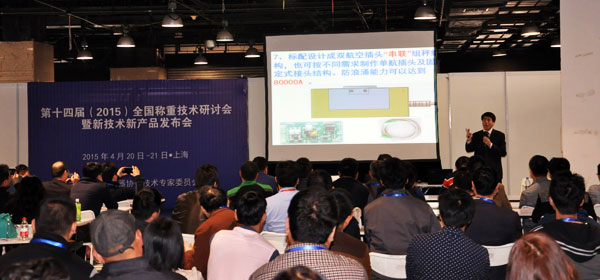 Weighing technology seminar
During the event, organizer arranged the seminar place in Exhibition Hall rather than in meeting room, it made more convenient for people who were interesting in the seminar to join the meeting, it also set off by contrast scene. Through calculating the number of entrance people and people entering time, it made a good effect. The seminar topics are on OIML, new products introduction and new internet+ content discussion; the speech men were both famous experts of weighing industry and beginning young people. Especially in new tech exchange, audience interacted actively, the atmosphere was warm. It shows that weighing instrument, an old-industry is so vibrant which combines with the internet.
During the exhibiting period, hundreds of "Weighing Technology Papers " which were specially prepared for professional visitors were snapped up.
The InterWeighing2015 focused on showing the newest weighing technology and products R&D by exhibitors from all around the world, which include all kinds of scales, balance, weighing system, indicator, load cell, testing instrument and device, electronic component and materials used in weighing instrument. These exhibits reflected the newest technological achievements of weighing industry in today's world, meanwhile, showed current development level of weighing industry in today's China. Some of visitors have joined each InterWEIGHING events; each time they had new experiences and gains. Some foreign visitors have visited several weighing instrument companies in China; they are familiar with Chinese weighing instrument. After visited all types of weighing apparatuses in InterWEIGHING2015 in Shanghai, they gave a high evaluation to the development and result of Chinese weighing instrument industry for Reforming and opening-up policy. The exhibition also had been concerned of many users of weighing instruments. Many business people from metallurgy, chemicals, machinery, transportation, food, oil and other industrial systems, who used weighing instruments a lot, came to visit the exhibition in succession. Many trade companies and distributors came to the exhibition for trade talks with the exhibitor. In order to accelerate the pace of development, some weighing enterprises sent their staffs to the exhibition to get latest information, exchange experiences and explore potential cooperation. Many exhibitors and their customers signed supply contracts or intent contracts on the exhibition. They all expressed satisfaction with the exhibition, and commended the exhibition had a real effects in enterprises promotion, technology exchanges and products launch to markets. The exhibitors felt that they were reap a huge harvest from the exhibition, and showed intention to attend next event. They hope the organizer could promote the exhibition into a world-class level international professional exhibition.
In preparation period of InterWEIGHING2015, considering the impact of global economic environment and InterWEIGHING's area developing from 3,000 sqm in 2001 expanding to 2, 6000 sqm in 2013, annual increasing speed of 18% (in same period for export amount of China weighing products was annual increasing about 16%), now the area should be a stable developing epoch, that means 20,000 sqm will be new normality of InterWEIGHING in following years. Therefore, organizer predicted the area of InterWEIGHING2015 would not over the peak in area in 2013. Shanghai Everbright Convention & Exhibition Center is with good location, convenient for transportation, room and board, as well as completes commercial facilities around the exhibition center. If the area was enough, Shanghai Everbright Convention & Exhibition Center would be the first choice. Organizer made a conservative pre-arranged planning. Exhibition site was still in Shanghai Everbright Convention & Exhibition Center. The result conformed to the planning, the area was more or less the same, and a slight decrease compare with the area in 2013.
Since 1995, China Weighing Instrument Association has organized the InterWeighing for 16 times in Beijing, Chengdu, Shanghai, Hangzhou, Qingdao, Changsha, Nanjing and Guangdong Dongguan. It strongly strengthens economic & technological exchanges and cooperation between China and international weighing industry. This made a tremendous contribution to introduce advanced technology and equipment for China weighing enterprises, to promote the production, process, technology advances, to speed up the adjustment of product structure and to promote the trade development. In recent years, in addition to being in 2009 global financial crisis there was a little decline, China's annual exports of weighing products increase at positive growth rate. In 2014, according to China Customs statistics, the export of weighing products has reached USD1.244 billion; it increased 5.55% than 2013.
The InterWeighing2015 was closed successfully. China Weighing Instrument Association will actively prepare for the InterWEIGHING2016. We believe that under the great support and active cooperation of the CWIA members and weighing enterprises, the InterWEIGHING will achieve great success and get better!
China Weighing Instrument Association
May, 2015
---

Exhibitors Listing of the InterWeighing2015

Floor Plan of the InterWeighing2015